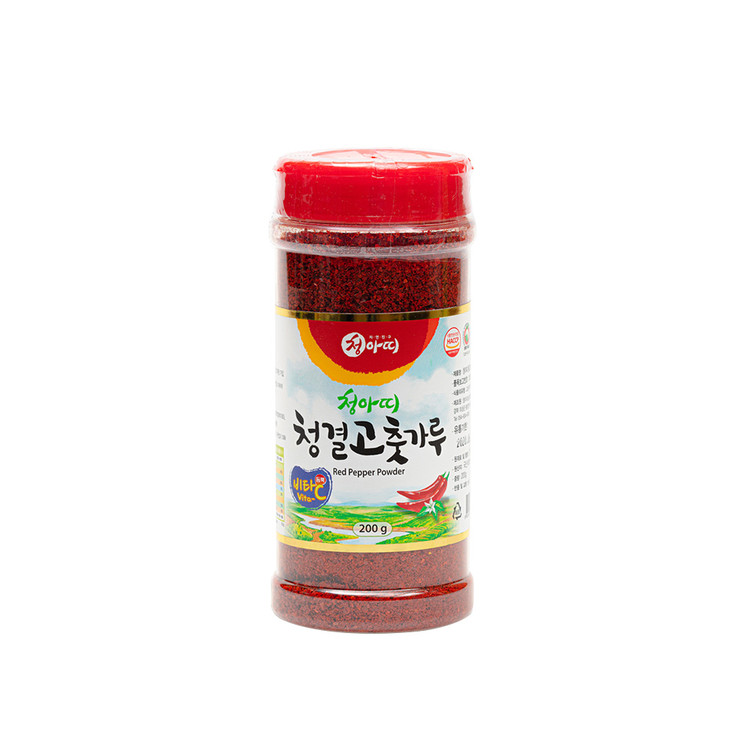 Vita C Red Pepper Powder 200g Korean Red Chili Powder Gochugaru For Korean Foods

CHEONGATTI is a company that provides food for school meals. At Cheongatti, our goal is to use the best-in-class products for school meals in Korea based on the last 21 years of commitment. Our expertise includes red pepper powder, oils, seeds, starches, milled grains. Our signature products are red pepper powder and sesame oil. We have been a leading expert in premium red pepper powder market using dry pepper cleaning machines, and we successfully launched the vitamin C red pepper products as part of the fostering gardening brand project. Vitamin C-packed pepper powder uses Taeyangcho-level, the highest quality red pepper in Korea, which contains a great mix of sweetness and spiceness and a higher number of nutrients than regular peppers.
Red pepper powder can be custom-ordered to suit the requirements of clients. We always make sure to get a sample powder ready, and process according to the particle size, spiciness, purpose that the clients demand, before distribution. We are equipped with facilities that can easily filter out foreign materials and minimize clumping.
We are the second company that has been certified with HACCP in Kyeongbook province, in Korea. We adhere to the traditional pressing methods to manufacture nutty, deep flavor sesame oil (100% non-ground seasame seeds) that is of superior quality. We have staff with more than 10 years of know-how allocated for each process, leading to high-quality production.
---
VITA C RED PEPPER
Net.Wt : 200g
Country of Manufacture : Korea
Ingredient and content : Dreid pepper 100%
Vitmain C content : over 185mg per 100g
How to store and precaution
Keep it in a cool place, away from direct sunlight.
SKU : s_atti_red
EAN ; 8809714591192