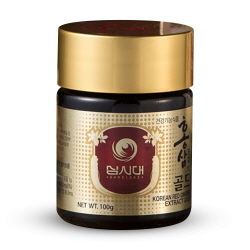 KOREAN RED GINSENG EXTRACT GOLD Easy Simply Health Herb Extract Panax Gift New
We obtained ISO14001, ISO22000 and INNO-BIZ certification with hygienic manufacturing facilities and clean environment, and are producing a variety of health functional foods using ginseng and red ginseng, including OEM-type production, as a specialized manufacturer in health functional food, GMP designated by KFDA. We, as a post office shopping supplier, also supply products trusted by customers to domestic and overseas markets with the highest quality control system from raw materials, packaging to shipment.
Geumsan Dukwon will do our best to be an enterprise more reliable as a friendly neighbor to keep my family's health, and an enterprise in the world to keep the health of mankind through thorough quality control and steady research and efforts.
---
KOREAN RED GINSENG EXTRACT GOLD 100g
100% the purest Korean specialty, Goryeo Red Ginseng
Applied 4 to 6 year old fresh raw ginseng, the quality red ginseng is produced and extracted by steamed and dehydrated
4 to 6 Year old fresh raw ginseng is produced by the steamed and dehydrated process and high concentration of ginseng liquid is extracted from 70% ginseng root and 30% root hair of ginseng in low heating process, not adding any of additional additives. This nourishing ginseng is highly concentrated supplement that remains ginseng solid in the formula up to 60% with its own taste and rich scent.
Product Information
ginsenoside Rb1 + Rg1 + Rg3 is 13.0mg/g
Content : Red ginseng 100%(Korea)
Weight : 100g
combination percentage : Red ginseng(Korea) 100%(Root 70%, Rootlets 30%)
UPC: 8809112985104
SKU: s_gumsan_gold