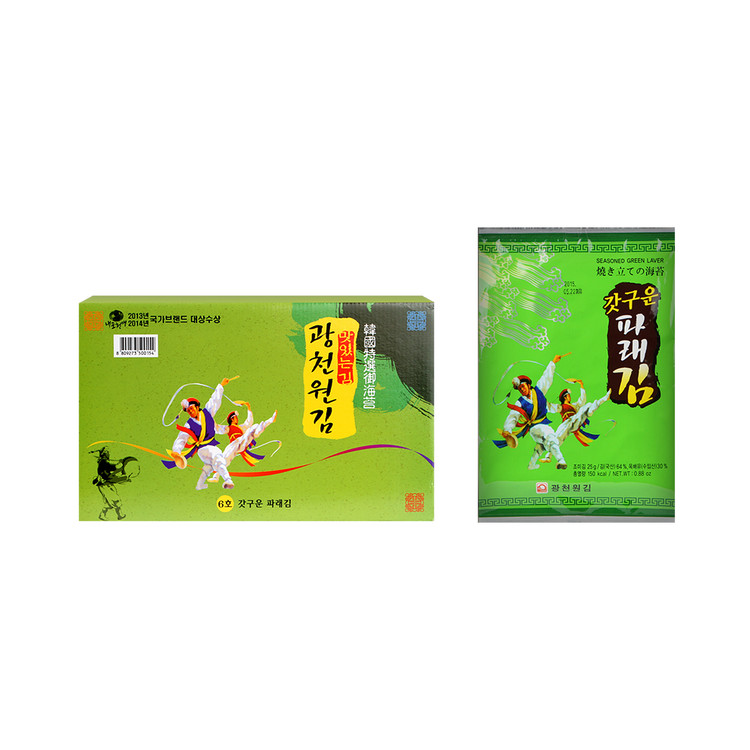 Freshly Roasted Green Laver 18g x 10 bags Dried & Roasted Seasoned Laver Parae
Kwangcheonwon Laver Ltd supplies the quality laver products gained from clean nature and provides order based production system. The order based production system will result in the freshness and quality products after cultivating and manufacturing products and thus brings the satisfaction for customers to enjoy fresh crispy toasted laver all the time. We have a firm goal that we supply only the quality ingredients gained from nature under the sun and sea wind. The laver product of Kwangcheon boasts its own rich taste of laver as fresh as toasted instantly in 250°C.
---
Freshly Roasted Green Laver
Home of Laver!! Crispy tasteful seasoned laver, Kwangcheon Parae Laver.
Product Information
Food Type : Dried & Roasted Seasoned Laver
Manufactured Date : Refer to the product package.
Expiry Date :1 year from the manufactured date
Package Unit : 18g x 10bags / 1 box
Ingredients : 64% Organic laver (Korean), 30% Corn oil, Seasoned salt, Sesame oil.
SKU : s_onekim_10green
EAN : 8809654931287