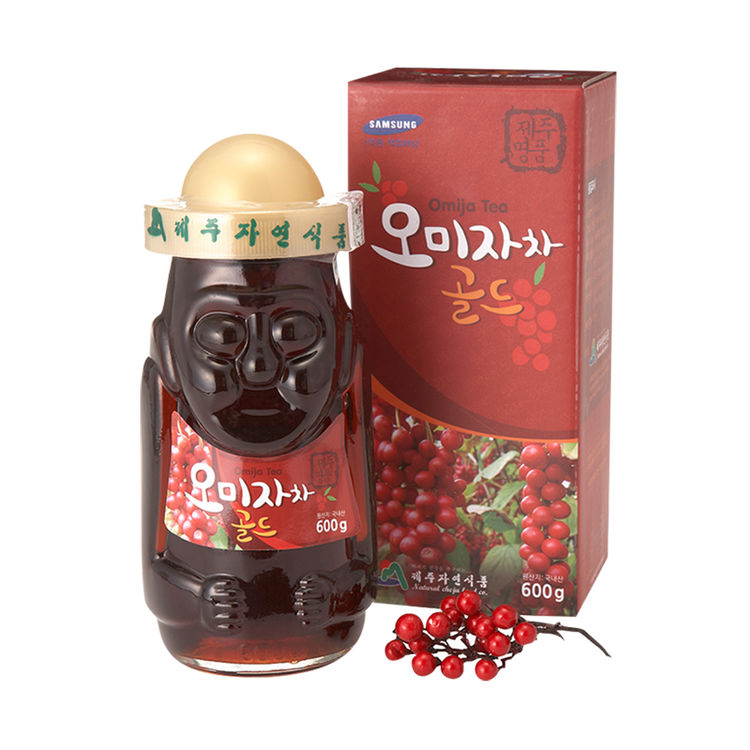 Jeju Nature Schizandra Fruit Tea 600g Omija Korean Delicious Food
Established in 1989, Natural Jeju Food Ltd has been researching and developing quality recipe food to apply with right ingredients based on over 20 years experience inspired from the brand name 'natural Jeju food is non additional additives'.

To create right food resemble to clean pristine Jeju environment, Natural Jeju Food Ltd keeps the best producing quality food with right attitude and healthy mind. Natural Jeju Food Ltd appreciates all your support and interest.
---
Jeju

Nature

Schizandra(Omija) Fruit Tea
Heavenly exotic combo of Korean Schizandra Chinensis Fruit and Jeju Honey
It is a sugared product that is made with fresh citrus raised in clean Jeju farm and delivers the utmost taste and scent of fruit. It has fresh pulp that you can feel the best taste. Experience Jeju Honey Citrus Tea.
Type
#1. Omija Fruit Tea Bottle 600g
Product Information
Main Ingredient : 80% Schizandra Chinensis Fruit Extract (5% granules), 10% Honey, oligosaccharide, citric acid
Expiry Date : 2 years from production date
Production Date : Refer to the package
Storage : Avoid direct sunlight and keep in a cool place.
EAN : 8809388732730
SKU : s_jayeon_omija_600