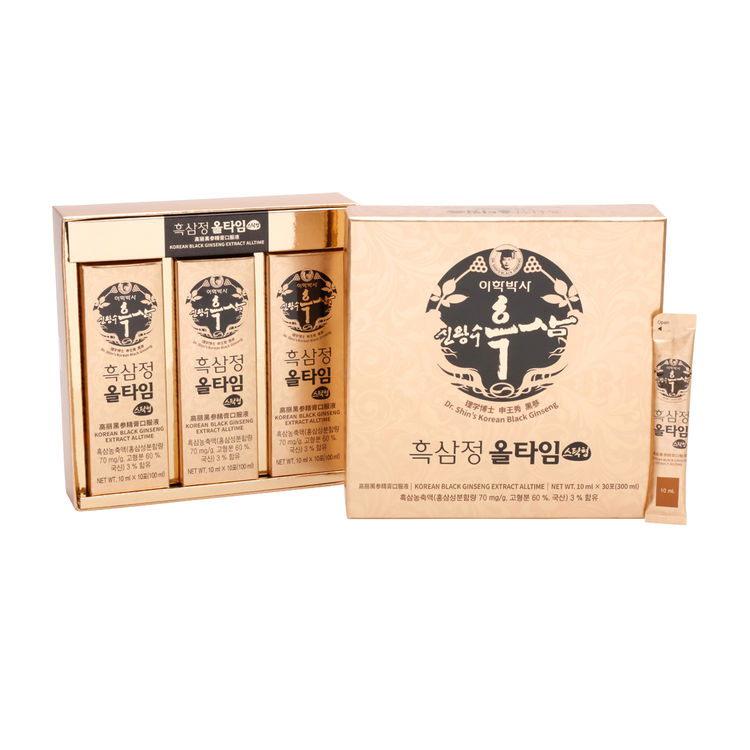 Korean Black Ginseng Extract All-Time 10ml x 30 Sticks Health Food Grown Korea
The excellence of Korean Ginseng exported to about 40countries over the world!
We, Korean Ginseng Research Co., Ltd. are making it.

With our brand, '2000days Korean Red Ginseng', 'JECSCO', and 'Dr. Shin Korean Black Ginseng', we, Korean Ginseng Research Co., Ltd., have engaged in researching and developing Korean ginseng for national healthcare foodstuff and supplied it to many consumers in overseas market since 1995. We have manufactured and exported the various types of Ginseng products as concentrated extracts, powdered extracts, powders, granules, drinks, tablets, capsules, honeyed ginseng, etc. as well as investing for further development of new products. In July 2010, we built up new factory for GMP & HACCP and put the emphasis on R&D and Quality Assurance, introducing ultramodern facilities and high tech test equipment in R&D center. With GMP facility approved by KFDA, we have devoted in production of higher grade of ginseng/red-ginseng products and played a leading role in modernization and globalization of Korean ginseng products.

We will try to improve our system to meet the requirement of KGMP, HACCP and keep on researching & development of new health functional food for further contribution to the people, as well as playing a role for leading the processing industry of Korea Ginseng.
---
Korean Black Ginseng
All-Time 10ml x 30 Sticks
This product is made of Korean Black Ginseng extract and healthy traditional materials. As a convenient stickpacking, it is easy to carry and intake anywhere and at any time.
Product Information
Intake and ingestion: Take directly 1 bag (10ml), once a day. (For children under 15 years old, intake ½ of recommended adult allowance).
Ingredient :Black ginseng extract, Isomalto-oligosaccharides, Antler Extract, Mixed extractNo.6, Ssangwha extract, Angelica root extract, Ganoderma Lucidum extract,Ziziphus Jujuba fruit extract, Mugwort extract, Vitamin C, Nicotinamide, Calciumpantothenate, Vitamin B1 hydrochloride, and so on.
EAN : 8809583479997
SKU : s_kgr_b_alltime