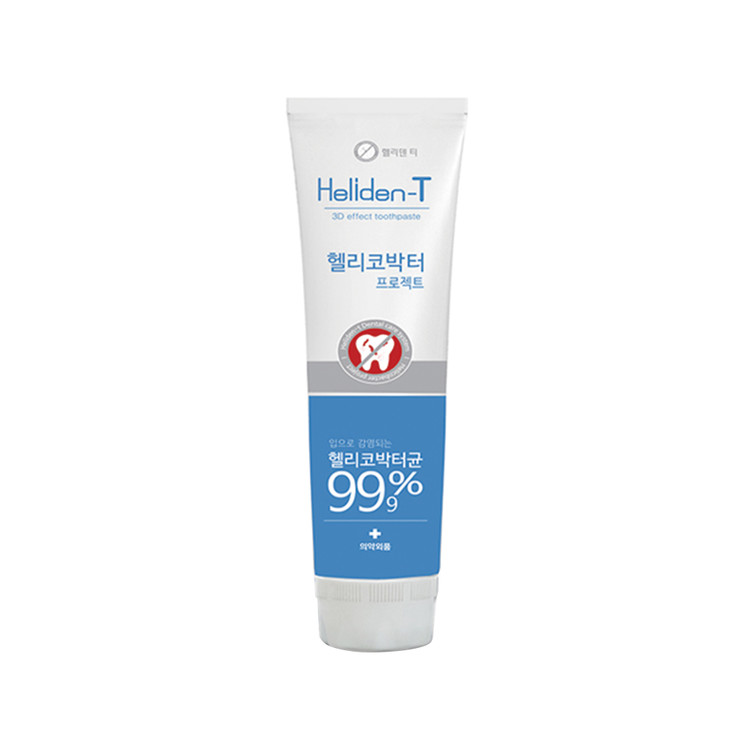 Heliden-T Toothpaste 120g Sterilizing Helicobacter Pylori, Prophyromonas Gingivalis, Streptococcus Mutans

Using patented natural antibacterial agents and natural preservatives, the company develops raw materials that enhance anti-bacterial forces on products such as cosmetics, toothpaste, and shampoo, and minimize skin irritation caused by artificial preservatives. It is developed so that natural preservatives can be used as a substitute for parabens, etc. used in antimicrobial agents.
---
Heliden-T Toothpaste 120g
Capacity : 120g

Usage Effect : Helicobacter pylori causing gastrointestinal disturbances is blocked in the oral cavity, the primary infection pathway. Prevent gastrointestinal disorders as well as gastrointestinal disorders.

Triple effect
100% of power Sterilizing Helicobacter pylori
100% of power Sterilizing Prophyromonas gingivalis
99.9% of power Sterilizing Streptococcus mutans

How to use
Press the bottom push-cap to remove the cap. Just press the tube and use the appropriate amount.
SKU : s_medic_helitooth
EAN : 8809654939245